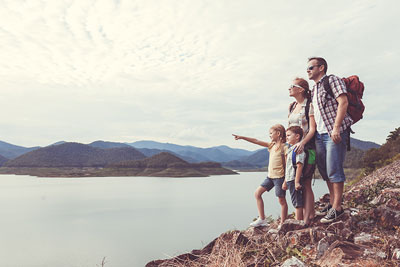 Waterproof Guides & Manuals are Ready for Adventure
At Waterproof Guides & Manuals, we've got your busy recreation or outdoors-focused organization covered with a durable selection of laminated business essentials that stand up to wet conditions in a variety of environments or applications. Following in the footsteps of our sister companies, PermaCard® and MenuWorks®, we're forging ahead with their proven array of waterproof and washable laminated products because we know how much these high-performance materials can benefit and best serve the outdoor, sporting, industrial, and medical industries. For nearly two decades, our related brands have provided customers with the sturdiest waterproof options to meet a variety of needs. Understanding that other businesses could benefit from these hardworking products, we founded our specialized division, Waterproof Guides & Manuals using the same tried and true processes and materials.
Specializing in Active Lifestyle Applications: Kayaking/Trail/Outdoors Guides
Rigorous activities demand dependable guides. If you run an outdoor or recreational-based business, you need user-tough materials that can keep up with your customers – ready to get wet, sweaty, grimy, and everything in between. All guides are available in gloss or matte laminated finishes with thicknesses up to 30 mil to withstand heavy use. Plus, all of our durable, easy-to-clean matte laminated products include Microban® Antimicrobial Technology at no additional charge, providing built-in protection that inhibits bacterial growth, keeping your frequently used guides cleaner longer as well as odor-resistant.
Guide Options That Work for You:
COIL-BOUND GUIDES

Present helpful and vital information in a clean, comprehensive manner. Full-color images crisply stand out with our coil-bound matte or gloss laminated waterproof guides and manuals in 4 standard sizes, plus custom options. You can opt to separate the content using built-in tabs with helpful headings to make it a breeze to identify categories for user-friendly, easy-to-access details your customers need for their outing. Rounded corners complete the design, for a sleek look and easy cleaning, plus a Microban® antimicrobial finish on matte laminated guides is provided at no additional charge.

BI-FOLD or TRI-FOLD GUIDES

Easy-to-clean waterproof tri-fold and bi-fold guides with rounded corners make colors and photos pop, offering an attractive upgrade to traditional paper products with durability that stands up to a gamut of activities. Easily slipped into a pocket, belt bag, or backpack, they stay neatly folded, on hand for quick reference. Matte finish folded guides also come with convenient antimicrobial protection at no additional charge.

FLAT GUIDES

For a quick way to present key details, a two-sided flat is a handy solution. Available in 8 sizes including smaller and slim flats that are perfect on a busy day out and stow away easily, waterproof flats also feature rounded corners, full-color printing for eye-catching images, and a matte finish option with convenient antimicrobial protection at no additional charge.
Refer to the Products tab at WaterProofGuides.com for these and other useful picks -- ready to take on the conditions of the great outdoors.
Waterproof Guides & Manuals provides durable, easy to maintain, worry-free materials you can count on. Discover how our waterproof, antimicrobial, easy-to-clean, and reuse guides and manuals can keep your business and customers on track. Contact one of our experienced account managers for more information and to request samples. We also offer expert design services for convenient one-stop shopping, so be sure to ask for samples designed by our talented in-house team as well.