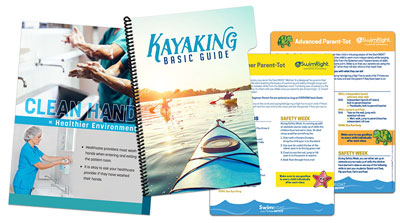 Introduction to Waterproof Guides & Manuals
We're excited to announce the launch of our new division, Waterproof Guides & Manuals. This new division will focus on providing waterproof products to various industries, including healthcare, manufacturing, education, retail, technical, and many others.
Our sister companies, PermaCard® and MenuWorks®, have been manufacturing waterproof and washable laminated products since 2003. Over the years, the need for products that were outside of traditional cards and menus arose. This need grew to the launch of our new division.
We'll be using the same materials and processes across all of our brands, so you can expect to receive the premier products that we're known for! And we have the most efficient manufacturing process in the industry, combining several proprietary operations into one without sacrificing quality.
Our options include coil-bound (with or without built-in tabs), flat, bi-fold, and tri-fold products in thicknesses up to 30 mil. All of our products include Microban® Antimicrobial Technology at no additional charge.
Have an idea that you would like to explore? Let's chat. Want to see samples of our products? Click below. Our team is ready to answer any questions you have or guide you through your next project!