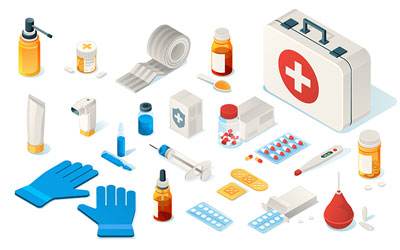 Finding Inspiration on World First Aid Day
Since the year 2000, the second Saturday in September has been deemed "World First Aid Day" and this year it falls on September 10. This special day established by the International Federation of American Red Cross Cross and Red Crescent Societies (IFRC) is meant to raise awareness of how first aid can save lives. For many, it's a day where they take part in learning first aid. For businesses, it can serve as a reminder to prep helpful first aid materials for their staff and/or customers.
First aid is the most effective way to help an individual who has just been injured. According to a Red Cross survey, 59% of deaths from sustained injuries may have been prevented by administering first aid. This is the most effective way to help someone in distress and truly shows the importance of knowing first aid and acting quickly.
The definition of first aid is to provide someone with immediate medical assistance; typically provided until full medical treatment is available. Recognizing a person requires medical attention is the first important step in rendering first aid. Depending on the situation, first aid can mean many things, ranging from administering CPR to the Heimlich maneuver to using an automated external defibrillator (AED) to applying pressure to an open wound or initially treating burns, stings, sprains, heatstroke, frostbite, and more.
Apart from saving lives, there are many other instances where first aid is critically important. It can prevent a bad medical situation from worsening further still, help improve chances of a full recovery and prevent permanent damage or disabilities, shorten hospital stays, and/or reduce unnecessary hospitalization. It also can aid in relieving both the physical and emotional pain of the injured person and help communicate vital information about the individual to EMTs and doctors.
To increase awareness, on World First Aid Day, over one hundred Red Cross and Red Crescent Societies organize events and ceremonies around the globe. They also promote learning first aid and obtaining first aid certification, making this important day the perfect time to commit to taking first aid courses. To learn where you can find CPR and first aid courses in your area, visit the American Red Cross website.
At Waterproof Guides & Manuals, we believe first aid information is a powerful tool. First aid bi-fold guides are placed throughout our offices and facility to keep helpful information readily on hand. We also print an array of bi-fold, tri-fold, and guide pages for our customers including airlines, schools, and outdoor activity-based businesses featuring first aid and emergency information.
Being prepared for the unexpected is important. For quick reference in the event of an emergency, Waterproof Guides & Manuals can help you create your first aid bi-fold and tri-fold booklets for your staff and customers or integrate pages into your outdoor guides and more. Contact one of our experienced account managers for more information and to request samples. We also offer expert design services for convenient one-stop shopping, so be sure to ask for samples designed by our talented in-house team as well.